Being broke, conveniently around the time of my 'rents birthday, they offered us (Jen and I) a great gift idea: we could make dinner for Mom and Dad. I agreed, and Jen and I planned a simple, but hopefully yummy dinner. We went to Fresh&Easy and bought all the ingredients, and even dug up some bargains (a bag of carrots for 52 cents and mini French bread sticks for 50 cents) and most importantly, we left the parents guessing. When we got home, Quinan cleverly led the parents outside as we prepared their meal. I had Jensen find the old whiteboard and wrote the special in green and purple marker: J&K Cafe's Special: The Summer Serenade, and the Drink of the Day was the Holiday American Pie Drink. Jensen and I scrambled around to try to make everything perfect. Half an hour later, the parents came in to order. Of course, they ordered the Summer Serenade with a glass of the Holiday American Pie drink. We first brought out the appetizer: Crackers a'la Dill. Here's the recipe:
10 large, whole-wheat crackers (preferably circular)
plain, whipped cream cheese spread
10 sprigs of dill
1. Take the crackers and spread the cream cheese on them.
2. Top with dill and serve.
Dad commented on the dill as he guzzled down a large glass of the Holiday American Pie Drink:
1 container of concentrated, frozen apple juice
1 1/2 teaspoon of cinnamon
1. Follow the directions on the container and make the apple juice.
2. Add the cinnamon and stir well.
3. Serve cold.
Then we served the salad. No special ingredients or dressing. After everyone had a good heaping plateful of salad, I brought out the soup while Jen topped it with fresh ground pepper. Here's the recipe for thr Roper's Garden Soup:
2 cans chicken broth
3/4 cups of small, alphabet noodles
1 zucchini, sliced
1 15 oz can of diced tomatoes, drained
1 cup of heavy whipping cream
1/2 carrot, sliced,
12 snow peas, diced
1/2 cup of frozen corn (in kernals)
1 6 oz can of diced jalapeno, drained
1/2 teaspoon kosher salt
1 teaspoon pepper
1. Heat the chicken broth until it boils. Add the noodles and salt. Stir occasionally for five minutes, then leave at medium heat.
2. Add the zucchini, carrots, peas, corn, jalapeno, and tomatoes, one at a time, waiting three minutes until adding the next ingredient.
3. Add the heavy whipping cream and stir. Let it simmer for seven minutes, stirring occasionally. Add the pepper and serve immediately.
Jen and I waited nervously for our parents output on the soup. To our happiness, they loved it! Even though I made it up as I went, I decided to recall as much of the recipe as I could and decided to blog it for million's (okay, maybe only ten') of blog readers to make this creation, and maybe become inspired to make up their own recipes.
03/30/2008 | ken | What do you think this soup needs? [1]
Tonight we had a wonderful dinner at the J&K Cafe.
Highly recommended!
Well, I have found something that will keep Quinan occupied. Though unfortunately it is not the best of things. Ever since Quinan no longer stayed on the couch and moved all around he would never sit in any one place for more than about 7 seconds. I know because one day I spent the whole day timing him to see how long he could sit still before running off some place. There have been days when I would beg him to just sit for 20 minutes in front of the TV like every other normal kid in America. But he just couldn't do it. So I have mixed emotions about his new hobby. It keeps him busy. Kept him busy for 3 hours today so I could help Jensen finish her science project (more about that below) But it is not the best hobby. He has discovered Lego Star Wars on the PlayStation. The amazing thing is he can actually play it. I can't even figure out how to play it. So it is not good for a 3 year old to spend 3 hours on a video game and worse is when he did get off he was sword fighting everyone. And sword fighting like it was for real… he was in it to win and chop whoever walked in his path into pieces. But, Jensen did get to work on her project in peace so……
Science Project. This is our last one for a few years. YEA!!!! This year Jensen decided she wanted to see what ingredient in cookies affected the taste and looks the most. The over the past few weeks we have been making cookies and each time leaving out a different ingredient. What ingredient do you think affects cookies the most? Is it a different ingredient for looks than for taste? Leave your predictions and we will let you know tomorrow.
A couple of weeks ago my leg starting hurting. I don't remember hurting it… I just noticed that it was hurting. I'm not even sure what hurts. I think it is the hip flexor are but not sure. Anyway, I kept exercising and running and it kept hurting. Then last Thursday I pushed myself through the run and then could hardly walk the rest of the day. So I decided maybe i should rest it until it felt better. It's Monday and it isn't feeling any better. I'm bummed. Exercising is a great stress reliever. Plus, I have to watch what I eat even more (or pretend like I do) when I am not burning anything off. Which is really hard to do with a two pound box of Sees Chocolate sitting on my counter.
I made something new for dinner that Hugh liked. I was suprised he liked it because it mixed fruit and meat. He doesn't think a fruit should be mixed in with a meat in a dinner. But sometimes I slide it in anyways. When we were first married he didn't like Blue Cheese and now he puts it on everything so who knows what he will like when. Anyway, everyone loved the Cuban-Style Chicken.
One last thing before I go. I POSTED ANOTHER POST ON THE BLOG!!!! This is 2 days in a row now! I'm pretty excited. Though it is 9:20 pm and I didn't start until 9:00 pm…. didn't work on it all day. And I didn't take a camera with me anywhere or take any pictures today. Oh well. maybe tomorrow.
02/18/2008 | michele | Comment [4]
As I suspected when I started blogging it is hard to keep up with this! So after much encouraging from Hugh I am trying it again. I decided maybe I would do better if I took pictures throughout the day….then I would have something to blog about. Part of my problem has been that by the end of the day I'm to tired to remember anything that happened, or don't want to take the time to really explain. So I am hoping that if I include lots of pictures the pictures will speak for me. Isn't a picture worth a thousand words?
Jensen's school had a Thanksgiving Feast today that families were invited to. Quinan was very excited to be going to Jensen's school and asked me about a million times if it was time yet. Once we were there he had lots of fun and ate tons of food! Jensen had fun showing off her little brother to her friends.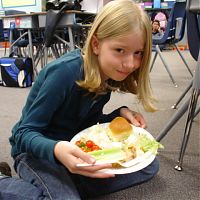 Jensen's Thanksgiving Feast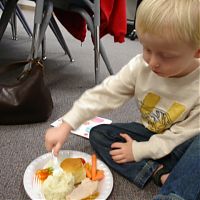 Quinan's Thanksgiving Feast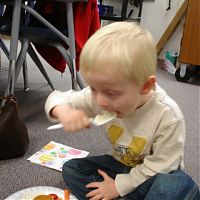 yum Potatoes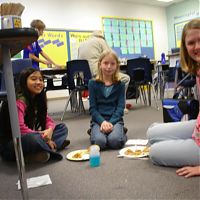 Brittney, Jensen, Hannah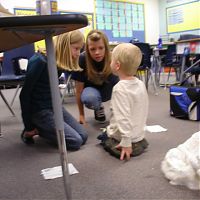 Jensen and Allison making Quinan say funny things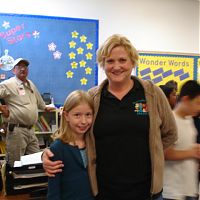 Jensen and her 5th grade teacher Ms. Presley
When we got home Quinan actually took a nap, maybe because he got up at 6:45 AM. He slept for about an hour and then I had to get him up to go pick up Kennerley from school. He must have had a great nap. Not sure if you can tell from the photo because his hair is so light but a section of it was standing straight up! Signs of a great nap.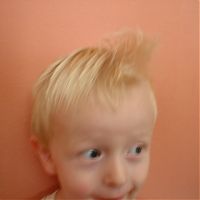 I made a couple of yummy things today. Below are the recipes
SWEET AND SPICY PUMPKIN SEEDS
1 cup pumpkin seeds
5 tablespoons sugar
1/4 teaspoon salt
1/4 teaspoon ground cumin
1/4 teaspoon ground cinnamon
1/4 teaspoon ground ginger
Pinch of cayenne pepper
1 1/2 tablespoons olive oil
In a medium bowl combine 3 tablespoon sugar, salt, cumin, cinnamon, ginger and cayenne. Heat oil in a large nonstick skillet over high heat. Ad pumpkin seeds and remaining 2 tablespoons sugar. Cook until sugar melts and pumplin seeds begin to caramelize, about 45 to 60 seconds. Transfer to bowl with spices and stir well to coat. let cook.
SPAGHETTI A PIZZAIOLA
1 lb fettuccini – cooked
1 lb of Fresh mozzarella, diced into about 1 inch squares
1 24 oz can diced tomatoes
1 garlic clove
1 1/4 cup mayonnaise
1 1/2 Tablespoon oregano
Mix all the ingredients except the fettuccini together, then toss with the noodles. Place in a baking dish and bake until the cheese is melted about 20 minutes at 350 degrees
ITALIAN SALAD
Dressing:
1/2 cup white vinegar
1 1/2 teaspoon salt
1/3 cup water
1 teaspoon lemon juice
1/3 cup vegetable oil
1 garlic clove
1/4 cup corn syrup
1/4 teaspon dried parlsey flakes
2 1/2 tablespoon parmesan cheese
pinch diced oregano
2 tablespoon dry pectin
pinch of crushed red pepper flakes
2 tablespoon egg substitute
Combine all the ingredients with a mixer on medium speed for 30 seconds. Chill at least 1 hour. Serve over mixed greens dressed with peperoncini peppers, black olives, cherry tomatoes, croutons, fresh grated Parmesan cheese.
11/21/2007 | michele | Comment [3]
Ken chose the secret ingredient for Iron Chef this week, garden fresh vegetables. So we made fruit salad, a side of brown rice cooked with squash and peppers, and fish tacos with a lime-sour-cream-pepper sauce.
10/14/2007 | hugh | What did your family iron chef recently?
Michele has started a couple traditions.
First she waits to go grocery shopping until she needs to. This is a change from shopping same time and day every week. This cuts down on waste and helps us turn our inventory over better.
Second, she's started Iron Chef at our house. This happens when the selection of food to cook from is dwindling and Michele hasn't yet gone to the store. Basically whoever "gets" to cook dinner — Tonight was Kenn and I — has to find ingredients that are remaning and put them together in new and exciting combinations.
Tonight Kenn and I cooked up, chicken breasts filets, with a cheese (soup) sauce, topped with peas and served on a bed of angel hair pasta. The side was cheddar-garlic bread from Great Harvest slightly broiled with freshly grated cheddar on top.
Bone appiteet.
08/15/2007 | hugh | Do you Iron Chef? [1]