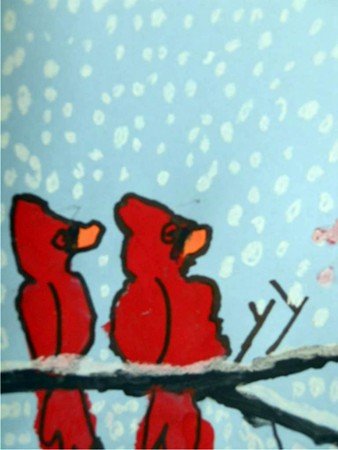 Quinan drew this in his art class this year. I don't think I could draw anything half this good when I was in first grade. Or even now. :) Good job, Quinan. Keep up the good work!
12/04/2010 | quinan | Any feedback for the new artist?
"I need to make it perfect. And by perfect, I mean good."
Oh man! I need some new skin!
-Quinan after getting hurt.
Quinan is watching Special Agent OSO. Each show has a problem and on this particular episode it's not knowing how to pick strawberries.
Quinan said: "that's easy!"
I say: It had better be because he was just in the backyard and hour or two earlier picking (and eating) some.
Mom: Quinan (please) take this dish-rag and wash the table off.
Quinan: Put it in the trash?
Mom: No wash the table off.
Quinan: Oh.
This is getting sad. -Quinan after spilling some soup
03/08/2009 | quinan | Comment [1]
Last night—for the third year in a row—Quinan woke up with the croup. 2007 2008
We have a pretty good routine now to treat him. I just grab Quinan, a chair and a blanket and site outside in the cold holding him for 30 minutes to an hour. Then we start up the humidifier in his room. We stayed home from church to make sure he doesn't spread it to other kids. And had lots of fun including playing with the african giraffes grandma and grandpa sent us.
If you child hasn't had croup before and you aren't familiar with it this is what it Quinan sounded like to years ago.
02/22/2009 | quinan | Have your or your child had the croup? [3]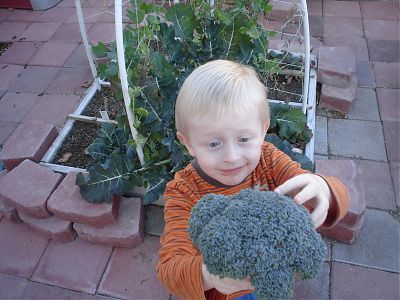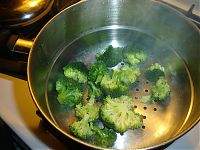 A couple weeks ago Quinan helped us harvest broccoli from our square foot garden. We've been blessed to have about this much broccoli from our garden every week. We also have cauliflower, peas, cabbage, cilantro, carrots, parsley, lettuce and a little bit of spinach that have grown through the winter.
02/15/2009 | quinan | How is your garden? [3]
Mom: We can be an example.
Quinan: Egg sample? but I don't like eggs!
09/21/2008 | quinan | Comment [2]
Qiunan helped take care of an early tomato worm.
05/16/2008 | quinan | Comment [2]