As I suspected when I started blogging it is hard to keep up with this! So after much encouraging from Hugh I am trying it again. I decided maybe I would do better if I took pictures throughout the day….then I would have something to blog about. Part of my problem has been that by the end of the day I'm to tired to remember anything that happened, or don't want to take the time to really explain. So I am hoping that if I include lots of pictures the pictures will speak for me. Isn't a picture worth a thousand words?
Jensen's school had a Thanksgiving Feast today that families were invited to. Quinan was very excited to be going to Jensen's school and asked me about a million times if it was time yet. Once we were there he had lots of fun and ate tons of food! Jensen had fun showing off her little brother to her friends.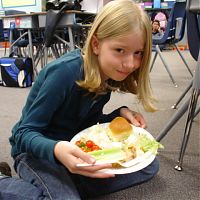 Jensen's Thanksgiving Feast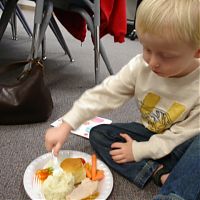 Quinan's Thanksgiving Feast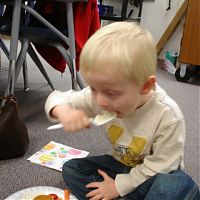 yum Potatoes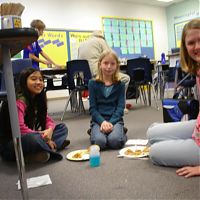 Brittney, Jensen, Hannah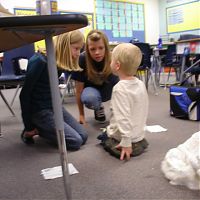 Jensen and Allison making Quinan say funny things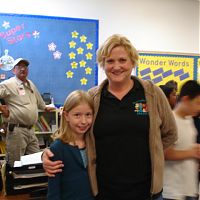 Jensen and her 5th grade teacher Ms. Presley
When we got home Quinan actually took a nap, maybe because he got up at 6:45 AM. He slept for about an hour and then I had to get him up to go pick up Kennerley from school. He must have had a great nap. Not sure if you can tell from the photo because his hair is so light but a section of it was standing straight up! Signs of a great nap.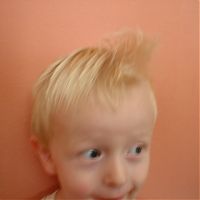 I made a couple of yummy things today. Below are the recipes
SWEET AND SPICY PUMPKIN SEEDS
1 cup pumpkin seeds
5 tablespoons sugar
1/4 teaspoon salt
1/4 teaspoon ground cumin
1/4 teaspoon ground cinnamon
1/4 teaspoon ground ginger
Pinch of cayenne pepper
1 1/2 tablespoons olive oil
In a medium bowl combine 3 tablespoon sugar, salt, cumin, cinnamon, ginger and cayenne. Heat oil in a large nonstick skillet over high heat. Ad pumpkin seeds and remaining 2 tablespoons sugar. Cook until sugar melts and pumplin seeds begin to caramelize, about 45 to 60 seconds. Transfer to bowl with spices and stir well to coat. let cook.
SPAGHETTI A PIZZAIOLA
1 lb fettuccini – cooked
1 lb of Fresh mozzarella, diced into about 1 inch squares
1 24 oz can diced tomatoes
1 garlic clove
1 1/4 cup mayonnaise
1 1/2 Tablespoon oregano
Mix all the ingredients except the fettuccini together, then toss with the noodles. Place in a baking dish and bake until the cheese is melted about 20 minutes at 350 degrees
ITALIAN SALAD
Dressing:
1/2 cup white vinegar
1 1/2 teaspoon salt
1/3 cup water
1 teaspoon lemon juice
1/3 cup vegetable oil
1 garlic clove
1/4 cup corn syrup
1/4 teaspon dried parlsey flakes
2 1/2 tablespoon parmesan cheese
pinch diced oregano
2 tablespoon dry pectin
pinch of crushed red pepper flakes
2 tablespoon egg substitute
Combine all the ingredients with a mixer on medium speed for 30 seconds. Chill at least 1 hour. Serve over mixed greens dressed with peperoncini peppers, black olives, cherry tomatoes, croutons, fresh grated Parmesan cheese.
11/21/2007 | michele |
Comment
I want to know what Jen was trying to teach Quinan to say…

I understand the "hard to keep blogging" dilema! I fizzled out over Thanksgiving myself – too much turkey.
But keep it up. I love checking out your site. Your kids have grown up so much!

Your family is so darn cute!! I wish they had this kind of stuff when my kids were little. What a history you are building!! Keep up the blog!

Doug
Dec 1, 10:01 AM
Commenting is closed for this article.